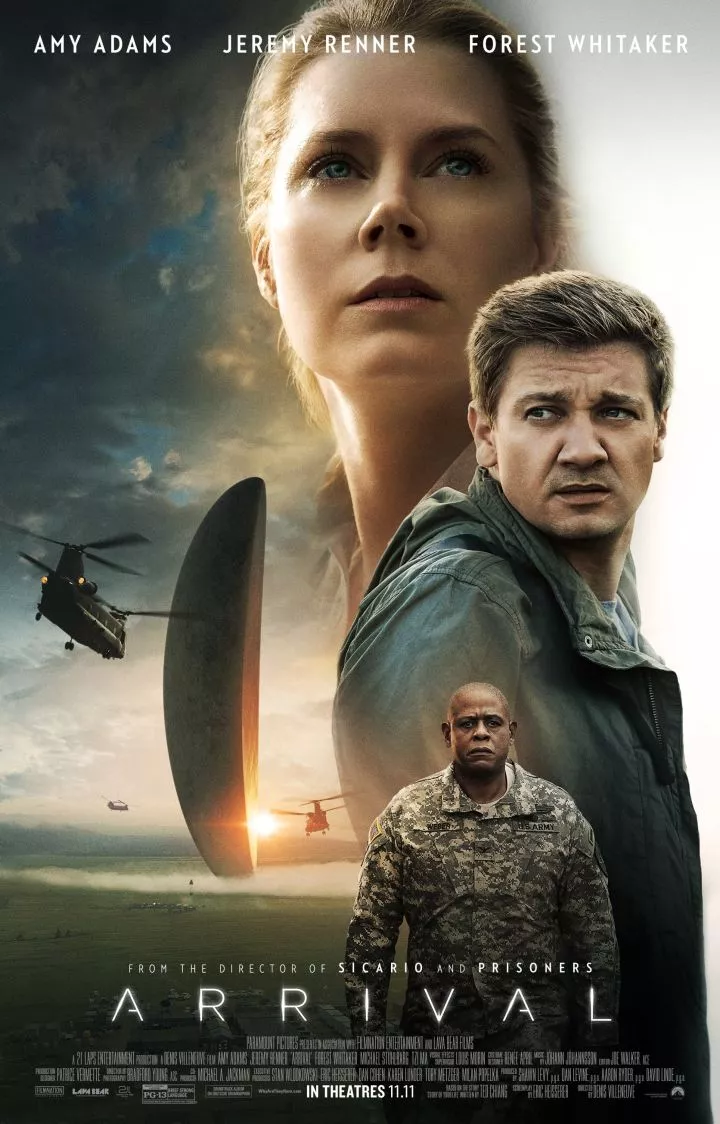 Why are they here? Taking place after alien crafts land around the world, an expert linguist is recruited by the military to determine whether they come in peace or are a threat.
Movie Abstract


---


Type movie Release Date 2016-11-10 Country United States of America Language English Russian Chinese Genre Drama Sci-Fi Mystery Cast Amy Adams as Dr. Louise Banks Jeremy Renner as Ian Donnelly Forest Whitaker as Colonel G. T. Weber Michael Stuhlbarg as Agent Halpern Tzi Ma as General Shang Mark O'Brien as Captain Marks Julia Scarlett Dan as Hannah (12 yrs. old) Abigail Pniowsky as Hannah (8 yrs. old) Jadyn Malone as Hannah (6 yrs. old) Carmela Nozza Guizzo as Hannah (4 yrs. old) Andrew Shaver as Environmental Tech Shawn Campbell as News Reporter Larry Day as Deputy Director of the CIA Dan Ryder Pat Kiely as Environmental Tech Frank Schorpion as Dr. Kettler Lucas Chartier-Dessert as Private Lasky Lucy Van Oldenbarneveld as CNAC Anchor Sonia Vigneault as Dr. J. Bydwell Mark Camacho as Richard Riley Sabrina Reeves as Press Secretary Russell Yuen as Chinese Scientist Julian Casey as Australian Scientist Tony Robinow as British Scientist Anana Rydvald as Danish Scientist Ruth Chiang as Chinese Scientist Sergiy Marchenko as Russian Officer Brittany Teo as Student with Smartphone Christian Jadah as Private Combs Joe Cobden as Cryptographer #1 Lorne Brass as Cryptographer #2 Genevieve Sirois as Cryptographer #3 Abdul Ayoola as Sierra Leone Representative Bineyam Girma as Sudanese representative Abdelghafour Elaaziz as African Representative Daniel Esteban as Venezuelan Representative Hal Roberts as American TV News Anchor Matthew Willson as Preacher Victor Andres Trelles Turgeon as Science Team Member #1 Michael Nangreaves as Science Team Member #2 Robert D. Morais as Master Sergeant Douglas Mustafa Haidari as Foreign Correspondent Albert Kwan as Chinese Man Reda Guerinik as Communications Operator #1 Adrien Benn as Communications Operator #2 Sasha Samar as Communications Operator #3 Kathleen Stavert as Communications Operator #4 Kattia Thony as Nurse Leisa Reid as Nurse Brent Skagford as Lieutenant Gurdeep Ahluwalia as Soldier Brian Dunstan as TV Anchor Dan Duran as TV Anchor Lori Graham as TV Anchor Orla Johannes as TV Anchor Sangita Patel as TV Anchor Tammie Sutherland as TV Anchor Max Walker as TV Anchor John Sanford Moore as TV Anchor Camille Ross as TV Anchor Ola Sturik as TV Anchor Karen Belfo as Skype CIA Agent (uncredited) Chloë Bellande as MIT College girl (uncredited) Philippe Hartmann as Halpern's Deputy Director (uncredited) Laurean Adrian Parau as US Army Major (uncredited) Nathaly Thibault as Gala Guest (uncredited) Leslie Baker as Middle Aged Woman (uncredited) Alex M. Yeuh as Japanese Minister Dave Campbell as Soldier Alexander Da Mota as Venezuelan Military Akul Dang as Pakistani Scientist Frank Fiola as Soldier References facebook instagram twitter website imdb

Download More Movies from Netnaija
Highly Recommended! VLC or MX Player app to watch this video (no audio or video issues).
It Also supports subtitle if stated on the post (Subtitle: English).
TRAILER
DOWNLOAD LINKS
Disclaimer: This website may contain pop-up ads for promotional or third-party content. Try the available servers below to download Arrival
Faster and Most Used Server